Rage Of Light (ROL) is a Swiss trance metal band formed in 2015 by Jonathan Pellet, previously associated with symphonic metal bands Trophallaxy and Dysrider. Their debut EP, "Chasing a Reflection," released in 2016 with vocalist Melissa Bonny and guitarist Noé Schüpbach, gained popularity for its innovative electro-metal sound and DIY music videos. In 2017, singles "Mechanicals" and an Amon Amarth cover garnered over 2 million views on YouTube. 2018 brought more content, and ROL signed with Napalm Records. Their first full-length album, "Imploder," dropped in March 2019, and live performances began but were disrupted by the COVID-19 pandemic. In 2021, Melissa left, and Martyna Halas joined. The sophomore album, "Redemption," released in December 2021, received acclaim for its maturity and freshness, ranking among Bandcamp's best-sellers for two weeks. In 2022, Noé departed, and Simon Burri joined. They released a cover, "Running Up That Hill," and in 2023, collaborated with Thomas 'Drop' Betrisey, releasing the singles "Upriser" and "The Scent Of Dead Leaves." Extramusic interviewed the band, delving deep into their journey, especially with the release of their new work, "Opaque".
What were the primary inspirations behind your new EP, "Opaque"?
Martyna: After the release of the 'Redemption' album, the band underwent another line-up change in mid-2022. Finding a suitable replacement for Noe was quite a challenge, so we were very lucky to find such a talented guitar player as Simon, who shares similar aspirations and goals. In the meantime, we started collaborating with Thomas 'Drop' Betrisey (Samael, Sybreed) to refine our style. We released a cover of Kate Bush's 'Running Up That Hill' and were eager to produce more original music, showcasing our new line-up and sound. Since 'Redemption' was only released in December 2021, and we didn't want to wait too long before releasing another album, we thought an EP would be the best solution.
Are there any themes or stories you aimed to convey?
Martyna: I feel that while 'Redemption' was more introverted as it was written in lockdowns, in isolation and uncertainty about the future, 'Opaque' is more extroverted; a reaction to a very turbulent world that emerged after the pandemic. Of course, there is also inner reflection and raw honesty, talking about mental health and emotional struggles, such as in the title track. I think this has become part of our signature style by now, which our fans appreciate very much.
Rage of Light is known for its unique blend of trance and melodic metal. How do you see this fusion evolving in the future?
Martyna: I think more and more bands are opening themselves to experimentation and are less shy to use electronic elements. Metal fans are also more open-minded than ever before, and with technological advancement, it's only natural that the arts and music will also reflect this trend. I think our secret sauce is the nostalgia, though. We grew up in the 90s, so we like to get inspired by the trance/eurodance melodies and synths we remember from the late 90s/early 00s.
Jonathan: I'm always searching for new sounds to use and new inspiration in the vast field of electronic music. For example, I started listening to Drum and bass last year and I thought it was really cool to add a part inspired by that in 'The Scent Of Dead Leaves'. Regarding the trance aspect, because it is at the core of ROL's music, I'm always looking for more interesting ways to use these typical sounds, by changing the patterns, the number of layers, etc.
Are there any other genres or sounds you're interested in exploring?
Martyna: There's much more to our sound than meets the eye. For sure, we use a lot of symphonic and progressive elements, which can be heard on our latest EP. I also like to use many vocal styles and textures, often as an extra instrument rather than lead vocal, which I will continue exploring.
Jonathan: There are definitely lots of other genres that are not close at all to metal or electronic that I enjoy listening to. I think you can find lots of inspiration in every kind and style of music.
Which bands or artists have been major influences on your music, both past and present?
Martyna: I try not to think of other artists when I create, but for sure, some of my all-time influences vocal-wise would include Anneke van Giersbergen, Siouxsie, Devin Townsend, Opeth, The Third And The Mortal, Clannad, Depeche Mode… At the moment, I'm enjoying the new Tesseract album quite a lot!
Jonathan: In the past, I'd say bands like Arch Enemy, Amon Amarth, Children Of Bodom, Sonata Arctica, Nightwish,… Now it's really tough to answer cause there isn't anymore bands that influence me directly for ROL's music. There are definitely many songs that can inspire me, in different musical styles, but I know I've become more difficult in my taste with metal music.
Juggling between the electronic and metal elements can be a challenge. How do you ensure that one doesn't overpower the other, maintaining that unique blend that defines your sound?
Jonathan: I don't necessarily see this aspect as a challenge. If I feel, in one song or one part, that more metal than electronic is needed, I would go for it. If I feel we should go full electronic on one part, like this example of Drum and bass I talked about in 'The Scent Of Dead Leaves', I would go for it. I think it's really cool to have this range of opportunities in our music, also to surprise the listener.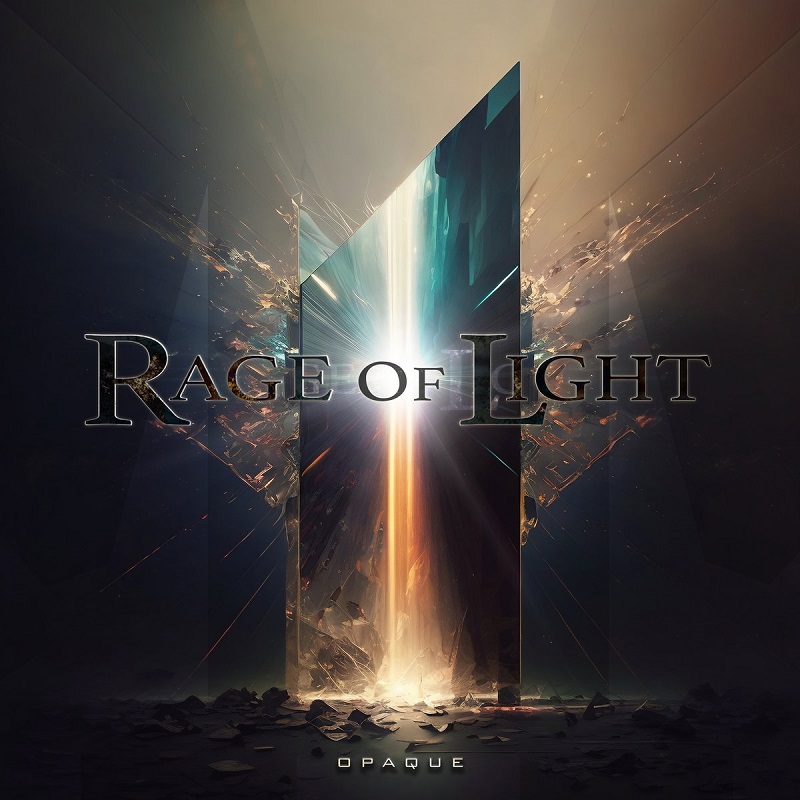 How do you feel you've grown as musicians and as individuals since the inception of Rage of Light?
Martyna: ROL became more mature and serious as a band, with more complex compositions and deeper lyrics. Our music got heavier and darker, which is a perfect contrast to our lighter, electronic side. I certainly had some shoes to fill after Melissa's departure, but I can honestly say I feel like I've found my space and managed to put my stamp on the music. With 'Opaque', I became more confident and more adventurous in my writing, and I'm very proud of what we have achieved so far!
Jonathan: There's definitely more confidence in what we can achieve, musically, visually (with all the music videos with produced and made ourselves) and live. Personally, I've also learned these last years to make more room to my band mates in the writing aspect.
You've done some innovative covers in the past. Can fans expect more covers in your unique style, or are you focusing more on original content?
Martyna: Perhaps when inspiration strikes, and if we feel it matches ROL, we might consider more covers in the future. However, our focus will be on creating original music first and foremost. In the meantime, check out Jonathan's new side-project, Dancefall… 🙂
Jonathan: Indeed! There are so many awesome Eurodance tracks and I always felt that they would work really well in this kind of trance / electro death metal that I enjoy making with ROL. But I didn't want to turn ROL into a cover band, of course, especially since we already covered 4 songs in different musical styles. So Dancefall allows me to have fun with this "Eurodance guilty pleasure". But we never know : maybe as Martyna said, we'll cover another song with ROL in the future.
After the release of "Opaque", what's next for Rage of Light? Are there plans for a full-length album, tours, or collaborations?
Martyna: After our long-awaited return to the stage in Aarburg, Switzerland, on 21 October, we are very eager to play more shows! So, getting back to a regular gigging schedule will be our priority, as well as a new full-length album in the near future. Keep an eye out on our social media as we announce more updates on that front!