Alessandro Di Benedetti, the mastermind behind the progressive rock project Inner Prospekt, has recently released his twelfth album, "Canvas Three," to critical acclaim. In this exclusive interview, we delve into the creative process, inspirations, and musical influences that shape his work. Alessandro shares insights into the challenges of composing and arranging for a collection of diverse pieces while striving to maintain a cohesive musical identity. He also discusses the influence of iconic bands like Genesis and Italian prog rock legends on his music. Furthermore, we explore how collaborations with other projects, such as Samurai of Prog and The Guildmaster, have enriched his musical journey. Finally, we gain a glimpse into the evolution of Inner Prospekt over the years and Alessandro's aspirations for the future. Join us for a fascinating conversation with this talented musician and composer.
Your latest album "Canvas Three" has been received with great interest. What was the primary inspiration behind this album, and how does it differ from your previous works?
"Canvas Three" is my twelfth album with Inner Prospekt. Before the Canvas series, each album had a particular inspiration, sometimes even a "concept album" setting with a unitary idea and story. This was until the moment Marco Bernard proposed to me to compose some songs for Samurai of Prog. As you know, Samurai themed their albums, each time taking inspiration from famous stories, literary works, or original concepts. So every piece I composed for them had its source, so to speak, and, musically speaking, also the general indications given to me by the Samurai. After having accumulated several minutes of music composed for them, I thought it would be nice to create a collection for myself, with my versions of those songs, and in this way the works that I called "Canvas" were born. So more than a particular inspiration, even for this third Canvas there was a multitude of inspirations and starting ideas. The most difficult job, in these cases, is to somehow try to avoid the "collection" effect, and to make the songs speak to each other, to communicate a unity of style and composition despite the different genesis of each song.
Every artist faces challenges during the creation process. What was the most challenging part of producing "Canvas Three"?
There weren't any particularly difficult moments, to tell the truth. I could say that composing ten-minute pieces, or the twenty-minute suite was a difficult task, but, paradoxically, for me it is almost more difficult to write a short piece. I am comfortable with long times, which give me the opportunity to develop ideas in a more elaborate and calm way and therefore the biggest difficulty was precisely the one I mentioned previously: managing to make the pieces speak to each other. Songs composed for different reasons, sometimes with different styles, for different bands, should now have worked together. I would be sorry if the listener had the impression of listening to a set of disconnected pieces without any sense and without a strong and personal style. Take for example the previous album "Grey Origin": all instrumental songs, a palette of sounds used for all, a unified style and way of composing, a single story for the whole work. In Canvas this is impossible to achieve, but the challenge is to still try to get closer to this result. I don't know if I've fully succeeded, but no review has ever highlighted the "collection" effect, so I'm probably on the right track.
What led you to choose the particular instruments, like Zither, that you used in "Canvas Three"?
As a keyboard player I am generally only responsible for keyboard sounds, and for all those sampled instrument sounds that I usually use. For everything else I rely on my musician friends, especially for guitars. In Canvas Three I called Federico Tetti (Mad Crayon), Rafael Pacha (Samurai of Prog, Guildmaster) and Carmine Capasso (The Trip) to play for me. Rafael is an extraordinary multi-instrumentalist: when I entrust a song to him by asking for the guitars and giving him carte blanche, it is not uncommon for him to get an entire orchestra in exchange! This happened for The Island of Despair, for Young Me, Old You and for A Wordless Fable. In these pieces he gave full vent to his passion for ancient and particular instruments, such as the viola da gamba, the piccolo flute or, indeed, the zither, with which he replaced parts that I had played with my synths and samplers, making these songs truly original and intense.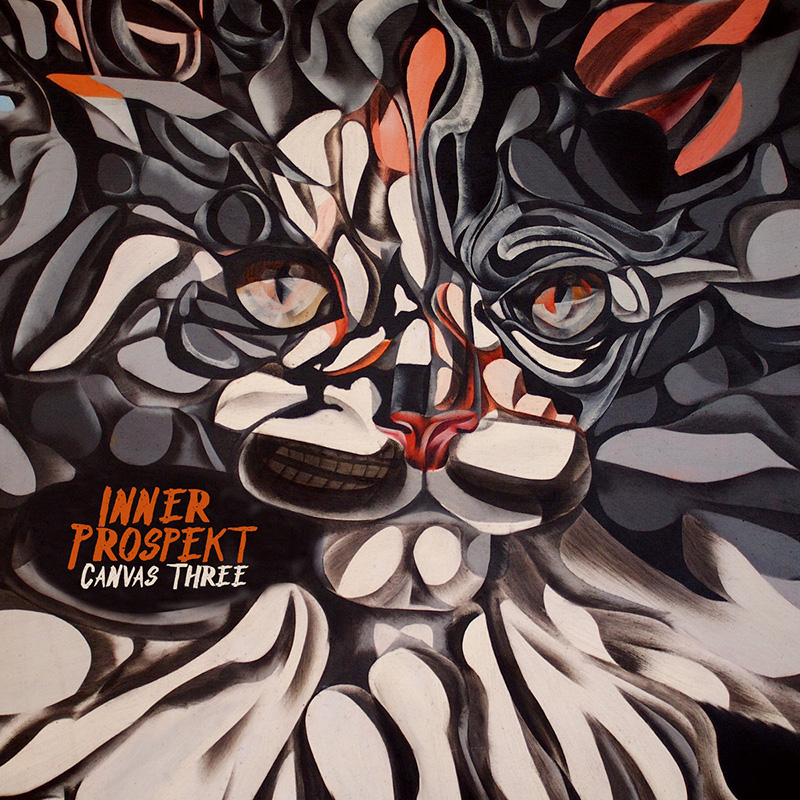 Many listeners have pointed out influences of early Genesis in this album. Were they a direct influence? If so, what particular elements of their music did you want to capture?
My absolute love for the English band is no mystery: my second album is called "Dreaming Tony Banks", so I'd say I don't make it a mystery! I find Genesis an incredible and inexhaustible band. Not just the first Genesis, but the Genesis of all eras. There are many aspects that have tormented me since I first met them, especially from a compositional and arrangement point of view. They could be complex but also very melodic. The complex and long compositions of the seventies are an inexhaustible source of ideas, the richness of the chords and the way in which they knew how to stitch together the speeches woven into the songs continues to fascinate me without interruption. I don't want to copy Genesis in the music I make, and if you're honest, you have to admit that. But what fascinates me about their music, their ability to create complex and at the same time usable and melodic worlds, yes, I have always tried to replicate this.
Italian prog rock bands from the 70s have left a lasting legacy in the genre. Which of these bands, if any, influenced your sound and compositions on this album?
I am from Genzano di Roma, a small town in the Castelli Romani area near Rome, which gave birth to the Banco del Mutuo Soccorso. Although my style doesn't resemble theirs, I have always been fascinated by them. Their ability to dare, the energy of the singing, and the management of the dynamics in the compositions, as well as the ability to mix the cards with genres, are all aspects that I have somehow introjected and tried to make my own.
PFM undoubtedly also had a lot of influence in some periods, but in general the inspiration has almost always come from the great English bands, as far as progressive rock is concerned.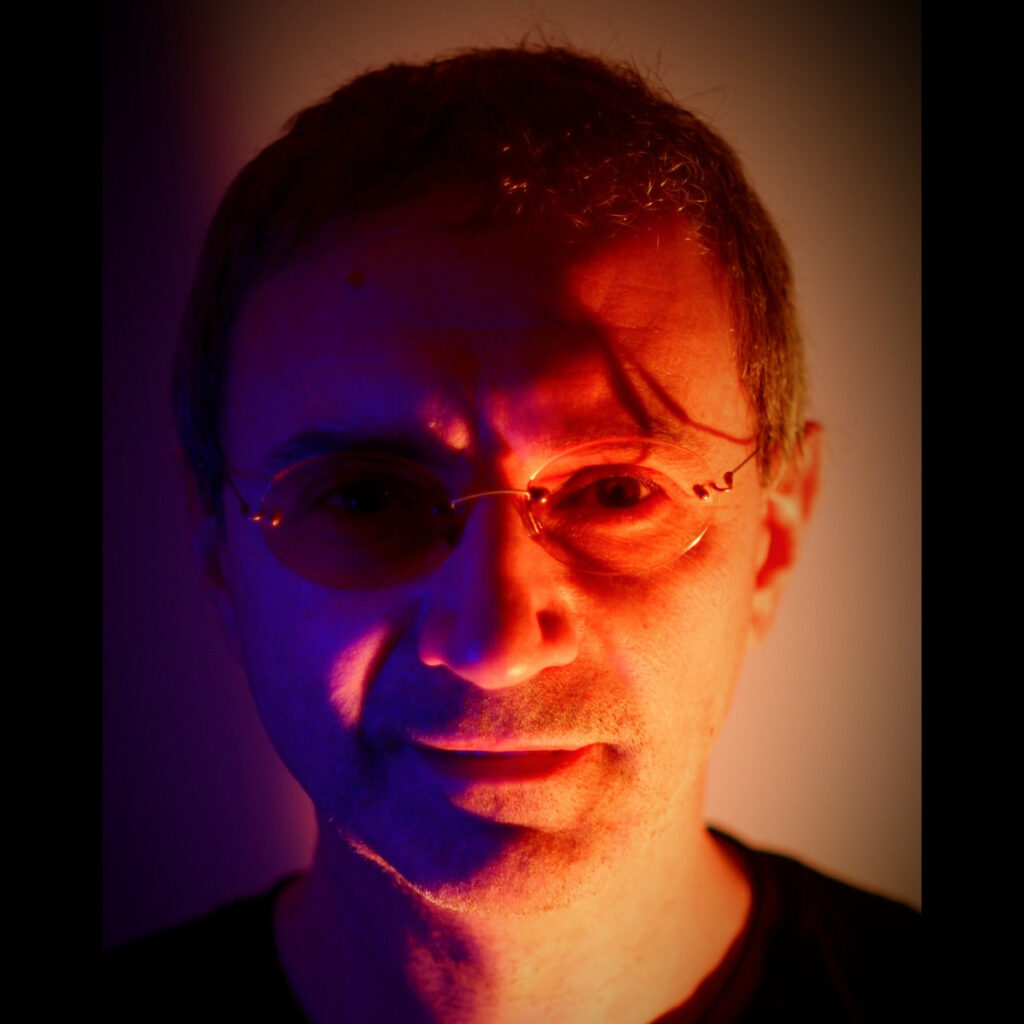 Given your deep roots in Italian prog rock and the broader music scene, how do you perceive the current Italian music landscape? How has it evolved, and where do you see it going, especially in relation to progressive rock and experimental genres?
There are two types of prog lovers: those who listen to it and those who do it. I basically belong to the second group. I must admit that I don't know the current prog scene deeply enough to be able to express a detailed opinion on the matter, so I abstain. My sources of inspiration are the most disparate, and I dedicate most of my free time to composing rather than listening to other prog albums. I don't like neo prog and many of the characteristics that I often hear in contemporary authors. For me, progressive is not (just) virtuosity, complex rhythms and bizarre chord changes, as long as they are strange. At the base there must be a solid composition, experimentation, a desire to mix the cards at all levels, both formal and content. In my very small way I try to do this, with all the freedom I can afford.
Some critics and listeners sometimes compare the mainstream music scenes of different countries. In your opinion, how does the quality and creativity of mainstream Italian music stand in comparison to other international music landscapes? Do you believe there's a disparity, and if so, what factors might contribute to it?
As with the previous topic, I don't feel qualified enough to comment on it, and to be able to express an opinion.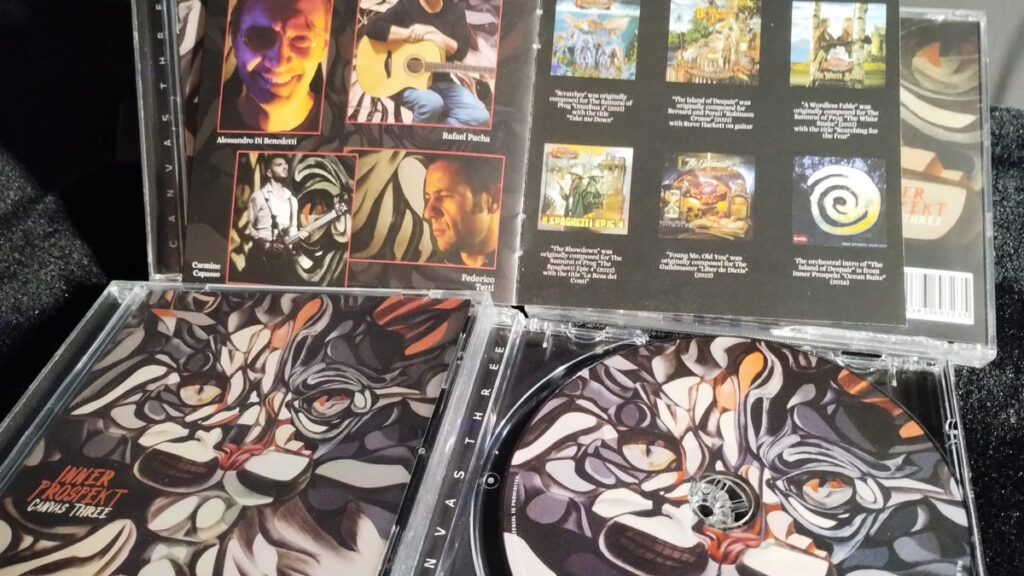 Alessandro, you've been involved in various musical projects like Samurai of Prog, Mad Crayon and The Guildmaster. How have these experiences and collaborations enriched your musical background, and in what ways do they influence the work you produce as Inner Prospekt?
I was born with Mad Crayon, in 1988, a band that still exists today. But I had too many ideas and they couldn't find an outlet in the group, so I created Inner Prospekt, to experiment freely and avoid the pieces ending up in the proverbial drawer for years, or forever. I owe all my training to Mad Crayon, it has been and continues to be a fundamental part of my growth. The playing and composing ways of my bandmates, from Daniele Agostinelli to Daniele Vitalone to Federico Tetti, have always been a source of inspiration. And I often call them to play on solo albums, because I know they can bring that style and sound that I need. Another fundamental aspect that comes from having worked in a band for more than twenty years in the rehearsal room and on stage is that when I compose I always think "as a band". For example, I ask myself: "Under this piano line, how would the drummer and bassist play to create a good rhythmic base?" And I try to put myself in their shoes, to look at things from their point of view. As with the other sections, I try to think as a band rather than as a single.
In recent years the collaboration with Samurai and Guildmaster has arrived, which forced me to work in a different way. Both Marco Bernard, Kimmo Porsti and Rafael Pacha have very specific ideas for music and from time to time I have to immerse myself in their worlds and try to create something that works without invading them with my personality and at the same time without losing it. I don't like to prevaricate, in any area. I like that my compositions adapt and can be a valid field of expression for other musicians. In short, I try not to fill all the gaps but to leave space for the other musicians called to give their contribution to express themselves, who in the case of Samurai, are always of the highest level (like Steve Hackett, who played on one of my compositions).
Composing for these bands is very important, if you listen to the three Canvas you can clearly feel it: you can hear that every piece I built for them speaks a richer language, due to their influence on my way of composing and often enriched by the concrete and direct contribution of musicians like Rafael. Furthermore, the versions arranged by the Samurai and Guildmasters of my songs are in turn a source of inspiration for my arrangements, in a virtuous circle that often gives rise to new ideas.
How do you see the evolution of Inner Prospekt over the years, and where do you envision it going in the future?
It's a challenging question. I'm not ambitious, and this is a big limit for a musician, for an artist in general. I like working behind the scenes and not being on the front line to perform or expose myself, and as can easily be understood, this character of mine does not go well with today's need to always be in sight, to continually appear in order to exist . I would like to be able to continue producing interesting and non-repetitive albums, with new ideas and new stimuli. It would be nice if this project could stand on its own, be stronger, have more audiences. Enterprising producers, where have you ended up?
The dream, however, is to be able to play live, and who knows, one day I won't be able to make it come true.