Advent Horizon's third studio album, "A Cell To Call Home," dropped on October 6, 2023. This 11-track modern progressive rock record explores themes of love, dependency, and addiction through the eyes of its protagonist. The band took control of the recording process, ensuring meticulous attention to detail. With artwork by Travis Smith and mastering by Jens Bogren, the album holds its own in the modern metal scene. "A Cell To Call Home" presents a lush soundscape with a distinctive progressive edge. To mark the album's release, we interviewed the band for insights into its creation.
"A Cell to Call Home" is your new album. How has the album been received? Were there any regions or countries where the response was particularly surprising or gratifying? How do you feel this global feedback might influence the band's direction in the future?
RYLEE: We are all incredibly excited and honored by the number of glowing reviews that this album has received. After devoting several years of our lives to creating this record, it truly is gratifying to see it resonating with so many people around the world. We have been specifically blown away by the response from Europe and Latin America. These are two places that we have never performed, so it is very exciting to see so many people so far from our home base discovering our music. We are hoping to perform in both regions in the coming year!
GRANT: I was particularly surprised by the reception in South America. As a Spanish speaker I would love to go on tour there!
MIKE: I personally have been blown away by international love for the album. I would love to tour anywhere in the world, really. Prog fans are universal.
"A Cell to Call Home" seems to describe a deep process of introspection. Can you expand on its significance in relation to the album's overarching theme? What inspired the band to delve into such a profound and emotionally charged topic?
RYLEE: The struggles of addiction and dependency are widespread in our world. We have all watched someone close to us navigate these mental and physical battles. Several years ago, after a distant family member of mine passed away from an overdose, I found myself dwelling on the subject often. As I began composing the songs that would go on to become "A Cell To Call Home" (which at the time we were calling "AH3"), I found that most of the lyrics I was writing were related to this topic. I guess I didn't originally intend to write an entire album about addiction, it just happened naturally as this is what was most on my mind at that point in time.
GRANT: Despite being pretty casual fellows, we also like to delve into deep issues that don't necessarily have clean, easy answers to them. The addiction theme was something more personal for Rylee who is our main songwriter so that's where this one ended up.
CASON: Addiction is a topic that touches many lives, especially here in the US. I myself have some family members that have overdosed and passed away. The story of this album is influenced by experiences in Rylee's life, but I'd say generally Advent Horizon likes to speak about introspective personal stories that people can relate to emotionally. Both addiction and love are part of those kinds of discussions.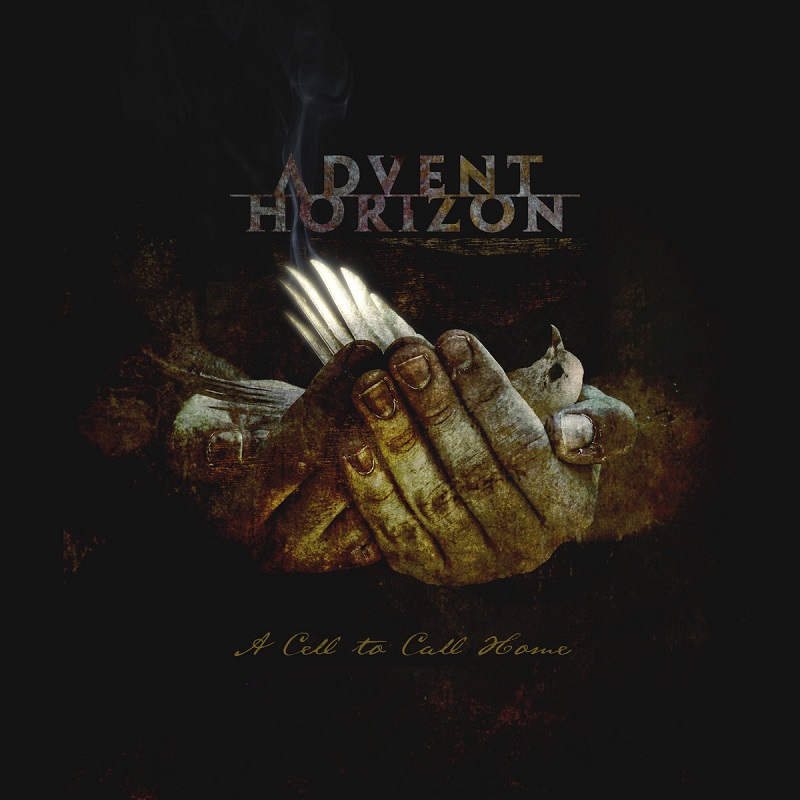 In this album you chose to incorporate baritone guitars, which can lend a distinctive tonal depth. What motivated this choice, and how do you feel the baritone guitar's unique sound influenced the overall mood and texture of the song?
RYLEE: I have always loved the sound of baritone and 7 string guitars. As a teenager, I used to tune down my regular 6 string guitars to learn Dream Theater songs (which sounded absolutely horrible on 10 gauge strings!) Also the song Anesthetize by Porcupine Tree had a big impact on me. I've always wanted to write something with that deep, rich sound. In 2019 my wife got me a PRS baritone as a birthday gift, and that guitar became an integral part of the writing process for several of the songs on the album (specifically Truth, Control, Cell To Call Home and Hold Me). I'm very excited to write more with this guitar in the future (I already have demos for several new AH tunes which make use of it).
GRANT: I think with the depth of the lyrics it's also helpful to have the sounds reflect that. Tonally we tried to make it complex and give people's brains something to chew on. Baritone guitars have that deepness to them that I think help convey the feelings and some of the doom felt with battling relationship issues and addiction. Plus, I mean let's be honest, baritone guitars just sound cool.
How do you believe Advent Horizon's sound has evolved from your previous releases leading up to this new album?
RYLEE: I would say that the two big changes to our sound are the addition of keyboards, and the fact that we are now self producing our albums. In the past, I tried to avoid using keys wherever possible, which gave our earlier albums a much more grunge-influenced sound. On "A Cell To Call Home" we made the decision to embrace the use of Synthesizer, Piano, Organ, Mellotron and a variety of samples. This greatly expanded the sonic palette that we had to draw from, and made a big difference in both the mixes, and the emotional depth of the songs. With our previous albums being recorded in expensive studios, we were always very cautious about how much we allowed ourselves to experiment in that environment. We tended to just record the parts exactly as we wrote them, without taking time to think about how the parts could be improved, or changed. Self-producing "A Cell To Call Home" allowed us to spend a LOT of time playing around with new sounds, new instruments, and new approaches to the writing and recording process. I feel like this made a big difference in the quality of the album.
GRANT: I think we went outside our instrument comfort zone. Way more synths, atmosphere etc. Aside from being more suited to the album's emotional themes, I feel it's hard to compete in today's music if you don't expand beyond drums, bass, electric guitar and the occasional rock organ. I think we were long overdue to explore that in our music. And we'll probably do more for the next record.
CASON: We had a much different process for A Cell to Call Home than on our previous records. Mainly we weren't limited to a certain amount of studio time since we recorded it ourselves, which really allowed us to produce the album and get the individual parts sounding the way we wanted them to sound. We also added lots of keyboards, electric pianos, organs, and soundscapes on this album, which is exciting new territory for us.
MIKE: To add to what the others have said about our musical evolution over the years, we also had upwards of 8 years of playing live in almost every scenario you could imagine; with each other, with other bands, with random strangers. The growth and experience you receive by just playing is invaluable.
Your sound has been compared to giants like Dream Theater and Porcupine Tree. How do these bands, along with others , influence your music? Are there any unexpected influences that fans might be surprised to learn about?
RYLEE: We are all big fans of modern prog bands like Porcupine Tree, Dream Theater, Haken, Opeth, Between the Buried and Me, The Dear Hunter etc. We also share a common love for classic prog bands like Rush (my first obsession and still my favorite band), Yes, King Crimson, Gentle Giant etc. However, each of us also has strong ties to other genres outside of Prog. I personally am a big fan of 80s new wave bands like Tears For Fears, U2, Depeche Mode, etc. I also find myself really loving a lot of modern pop-rock and indie music. Mutemath, Joywave, Half Alive, Manchester Orchestra, From Indian Lakes etc.
GRANT: I wasn't very involved in the writing process on this one so my influences don't really matter for the sake of this. I'm hoping to be more hands on with the next one though. My influences include basically everything Rylee and Cason said so I'll just mirror them.
CASON: Obviously both modern and classic progressive bands are a huge part of my musical history. I grew up listening to bands like Rush, Yes, Pink Floyd, King Crimson, Opeth, Between the Buried and Me, Sikth, The Mars Volta, Leprous, Porcupine Tree, etc. I also love lots of fusion and jazz music (particularly music from around the 60s and 70s) — artists like Return to Forever, Weather Report, Snarky Puppy, Robert Glasper, Bill Evans, McCoy Tyner, Red Garland, Miles Davis, John Coltrane, etc. In addition I love a lot of hip hop and rap like J. Cole, A Tribe Called Quest, OutKast, The Roots, Kendrick Lamar, JID, Terrace Martin, Anderson .Paak, Killer Mike, Run the Jewels, etc.
MIKE: While my taste in music generally revolves around progressive music of some type, the bands i listen to regularly vary like crazy. Artists like Ihsahn, the Dear Hunter, Vildhjarta, Stray from the Path, Oranssi Pazuzu, and Necrophagist have been on rotation recently.
For the song "Calling It Off", you collaborated with the iconic Jordan Rudess. How did this collaboration come into fruition, and what was the experience like working with such a renowned figure in the prog world? Were there specific elements or inspirations he brought into the track that might have surprised or delighted you?
RYLEE: Working with Jordan was a dream come true. Our good friend Austin Kokel (who has helped us with promotion and planning for the new album) sent off an email to Jordan's agent on the off chance that he might be interested. We didn't even expect to receive a reply, and almost couldn't believe it when he responded saying he loved the demo for the song and was definitely willing to contribute. This was in early 2021, in the middle of the ongoing COVID lockdowns. Most bands (including Dream Theater) were not touring at this time, which worked to our advantage. I think since Jordan wasn't super busy he was willing to take an extra project on. We didn't ask him to do anything other than the synth solo between 3:38 and 4:30. To our great surprise, when he sent us his recordings, they included an extra 30 seconds of harmonized lead parts playing along with the guitar lead that builds the last crescendo of the song. He exceeded all of our expectations, and we're beyond thrilled with the results!
GRANT: We were all pretty dumbfounded when he agreed and was sending us some takes. Honestly I was so honored and impressed at how quick he brought his artistic flavor to compliment the song. I typically like slower, methodical solos but this song just needed the shred and that's exactly what Jordan brought, with the perfect tonal balance too.
CASON: Jordan was super professional, quick, and easy to work with. Which is to be expected from him. It was awesome to get his solo back — Rylee and I were recording some keys at the time and we both had huge grins on our faces when he sent his tracks to us!
MIKE: Having Jordan Rudess on a track was really a dream come true. It honestly felt surreal hearing such an icon rip a solo like that on our song. It also caught me off guard hearing him harmonize with the guitars at the end of the solo section. Such a nice touch, classic Jordan.
What's next for Advent Horizon? Are there any plans or aspirations for future projects or tours?
RYLEE: We're already working on writing new material. I've got demos for several songs, and have set aside a good amount of time in the coming months for songwriting. Our goal is to be able to release a new record within the next 2 years. As for touring, we're playing things by ear at this point. We would love nothing more than to hit the road as support for a larger prog act (hint hint, nudge nudge Leprous, Haken, Dream Theater etc.) but at the very least we're hoping to play some local shows in our hometown, and travel to play some prog/metal festivals in the USA and Europe in 2024. Stay tuned, we're passionate about this project, and are determined to keep working to spread our music to the world!
GRANT: I just want to tour Europe and Latin America honestly. Right now though we need to focus on how to make the new album work in a live setting, as well as keep promoting the hell out of it. We've got a LOT of work ahead of us but we're stoked about it.
CASON: To me our next step is really to get our live show out there, either opening up for some larger progressive acts, or doing some progressive festivals in the USA and Europe. We are all professional live performers, or work in live performance in addition to making our own original music, so I can't wait to get out in person and show people what we can do live on stage.
MIKE: I guess the next step is more music more often. Eight years between album releases is far too long.