Chicago prog rockers District 97 released their new studio album "Stay For The Ending" through Spirit Of Unicorn Records on October 20. This album follows their 2019 release, "Screens," and has been recorded, mixed, and mastered by Noam Wallenberg, known for his work with Alan Parsons. Drummer Jonathan Schang expressed his excitement about the album, calling it their strongest collection of songs to date after 15 years of leading the band. Singer Leslie Hunt also mentioned their collaborative and dynamic approach, exploring new musical aesthetics. The album has garnered praise from prog royalty, with former Yes and King Crimson drummer Bill Bruford stating that "Stay For The Ending" is a massive achievement. To learn more about the band and their new album, we also had the opportunity to interview them, with a special focus on Jonathan Schang's insights.
First off, congratulations on 'Stay for the Ending'. Would you like to share your feelings about this new release? Are you satisfied with the final result?
Thank you! I know every band, including us, always says their latest release is the best. But we're really not joking about SFTE being our finest to date! The production alone is in a totally different league than any of our prior work, and as a unit I think we were very locked in on the overall sound we were aiming for. We're all very satisfied that comes scross on the final master.
'Stay for the Ending' is a great example of balance between complexity and enjoyability. How would you describe the evolution of your sound from your earlier albums to this latest release?
I think there's now more emphasis on space and texture. We still have plenty of opportunity to unleash our instrumental firepower, but we always aim to have that be in service to to the greater musical statement we're making.
Your sound has always been a unique blend of styles. Were there any new musical influences or artists that played a role in shaping the sound of this album?
Porcupine Tree, Haken, Peter Gabriel, and Javanese Gamelan were all conscious influences I drew from at times during both the writing and production. And while we've hinted at jazz in the past, there's a pronounced jazz aesthetic to my ballad "Life Cycle." its lyrics are directly inspired by Arthur C. Clarke's brilliant sci-fi novel Childhood's End, so that also influenced the overall sound of the piece.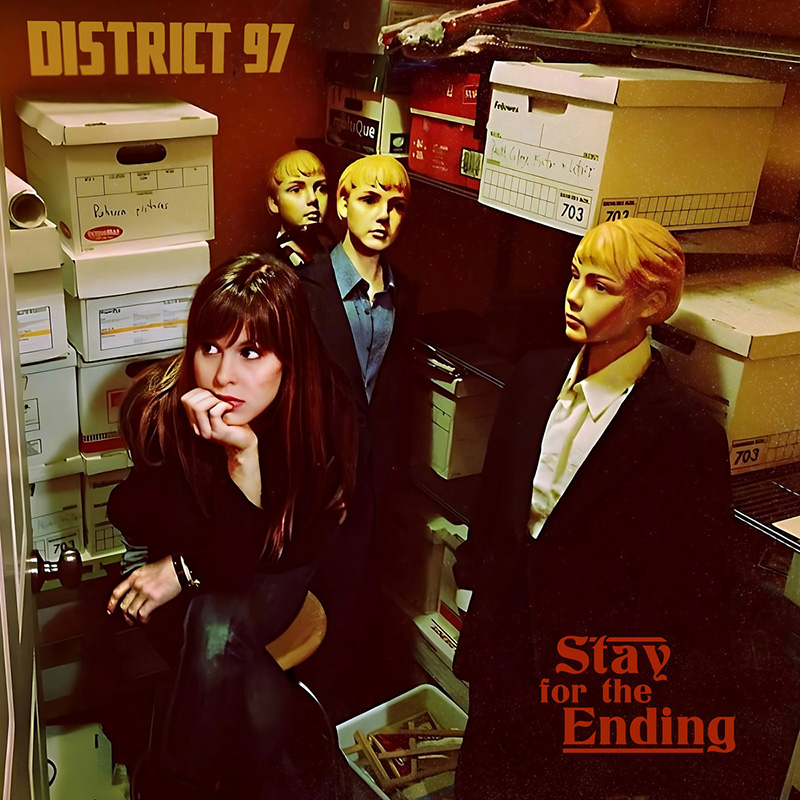 You've been a band for over a decade and a half. How do you keep the creative energy flowing and avoid falling into predictable patterns?
We all have our antennae perpetually up for interesting new music and players, so that inevitably morphs our individual and collective sound over time.
With the release of 'Stay For The Ending', can fans expect to see District 97 on the road soon? Are there any plans for a tour, and are there particular locations or venues you're especially excited to play?
We recently returned from a UK/European tour to promote SFTE, so I'm not sure when we'll be back to that part of the world. We're certainly open to any opportunities! Closer to home, we have some irons in the fire but nothing we can announce just yet. Keep an eye on https://district97.net/ as tour dates get firmed up.
Genres seem to be blending and evolving at a rapid pace. How do you perceive the current state of progressive rock within the broader context of contemporary music?
There are several newer artists archieving broad success who I would consider "prog" in their approach, such as Jacob Collier, Knower/Louis Cole, Domi & JD Beck, and Hiatus Kaiyote. Although it's generally underground to some degree, I am glad that innovative musicians are finding an audience.
In an era dominated by streaming and singles, how do you feel about the place and importance of full-length albums in today's music world?
I'm still an "albums man," as I think they can create a world for the listener to escape to for an hour or so. One single song, no matter how great, can't provide that level of immersion. To me, it's a bit like isolating a scene from a movie and then moving on without screening the whole film.
The music industry has seen significant shifts with the rise of social media and direct artist-to-fan platforms. How do you navigate this new landscape, and what opportunities or challenges have you encountered?
It's a mixed bag. One drawback is that it takes a lot of time and focus away from the actual music-making. On the bright side, our fans are wonderful people and their support allows us to have total control over our music. The best way to support what we do and get the complete D97 experience is by joining our subscription club, the Inside the Vault Club at https://district97.net/insidethevaultclub. It's been going 7 years and we've released a ton of exclusive music and video through it!